Babaji's Kriya Yoga Order of Acharyas Trust is a registered society in Sri Lanka. It maintains on a charitable basis, an ashram and large meeting hall, as well as a shrine to Satguru Babaji Nagaraj at a beachfront site, a few yards south of Colombo, Sri Lanka. For the public it offers introductory classes, several weekly Kriya Hatha Yoga classes, a meditation room, a bookstore, and initiation seminars in Babaji's Kriya Yoga. For Kriya Yoga initiates it also offers regular satsang meetings.
E-mail: Sri Lanka Ashram
Kriyanandamayi:: (00) (94) 773 706 988
Ahil: (00) (94) 776 055 359
Kriya Babaji and the Ancient Kataragama Shrine

.

Click here

to read this article

Kriya Babaji Nagaraj

.

Click here

to read this article

The History of Babaji's Kriya Yoga in Sri Lanka: A Pilgrims Guide

by M. G. Satchidananda

: Click here

to read this article
Acharya Kriyananadamayi assisted by Ahil Siva and Devaki offer Yoga and meditation classes
to more than 375 children and 30 school teachers in remote, war torn northern Sri Lanka, April 1-8, 2017
Click here for details
Babaji's birthday celebration at the Colombo, Sri Lanka ashram, November 26, 2015, click here.
Katirgama June 19, 2013 dedication of the Babaji Alayam Koil (temple) and Kriya Guru Parambarai Peetam at Katirgama, Sri Lanka.
Classes are offered in Babaji's Kriya Yoga in the Colombo area by:
Kriyanandamayi (Krishnaveni Kulanthaivel)
Kriyanandamayi, K.K., is an Acharya in Babaji's Kriya Yoga Order of Acharyas. She offers Kriya Yoga initiation seminars in Sri Lanka, India and Malaysia in English or Tamil. In her country Sri Lanka, she manages our two ashrams as the secretary of Babaji's Kriya Yoga Order of Acharyas Trust, organizes initiation seminars and pilgrimage tours to Katirgama and other holy places, conducts Hatha Yoga classes, corporate and students stress management programs, acupuncture treatment, and performs sacred ceremonies at our ashrams. After being introduced into spirituality by her parents at a very young age, she soon explored various spiritual lineages, has practiced Hatha Yoga since 2001 and taught it regularly since 2002. Since her initiation into Babaji's Kriya Yoga in 2006, she dedicated her life fully to intense Sadhana of Babaji's Kriya Yoga and to serving the local Sangha and her parental family.
Sadhana yoga Shrushti
Ayngaran Hall, #105 , Kotahena Street, Colombo – 13. Sri Lanka.
E-mail: Krishyoga or Krishnaveni
Contact No: (00) (94) 77 37 06 988, (00) (94) 77 60 55 359, (00) (94) 77 43 97 339
Wednesday 6pm to 7pm
Saturday 6am to 7am
Sunday 6am to 7am
We offer Hatha Yoga Classes:

Trillium Residencies, # 153 Elvitigala Mawatha, Colombo – 8
Monday 10 am to 11 am
Wednesday 10 am to 11 am
Friday 10 am to 11 am
Babaji's Kriya Yoga Book store and Information Center.
#85 4/2, Peterson Lane, Colombo - 06.
Satsang (only for initiates):
satsang meetings on last Sundays of the month at 11am to 12.30pm
First level initiation seminars with Acharya Satyananda
For actual seminars, dates and venues, Click here to go to the page with the Sri Lanka Events Schedule.
All initiates are welcome to attend these as a review.
About Kriya Yoga and Acharya Satyananda – an initiate's perspective
by Marina Kapur
Read more: click here
* Testimonial *



Review about a first
initiation seminar
with Satyananda

Click here for details

-----------------------------------
Babaji's Birth Day Celebration, December 6, 2014 at the Babaji Alayam Ashram, Dehiwala, Sri Lanka
More than 50 persons attended the 12 hour celebration of Babaji's birthday on December 6, 2014, at the Babaji Alayam Ashram in Dehiwala. A few days before, ashram members fed a meal to children in an orphanage. View more photos here:
https://plus.google.com/u/0/photos/102316518201804498547/albums/6090511009894836625?sort=1
---
Pilgrimage to Babaji Ashram, Katargama, Sri Lanka January 9-16, 2014
Babaji's Kriya Yoga Ashram in Katargama

Babaji's Kriya Yoga Ashram on the seashore in Dehiwala, south of Colombo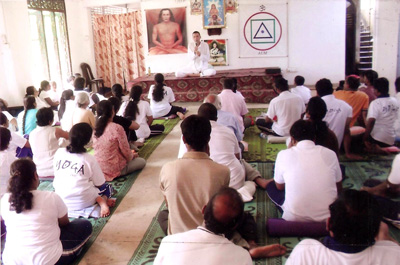 Sixty participated in the initiation seminar at the Babaji's Kriya
Yoga Order of Acharyas Trust ashram in Dehiwali, October 22-23, 2011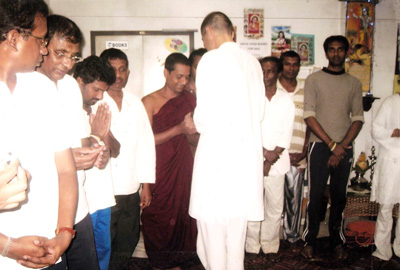 Acharya Satyananda present Prasad to Rev. Panadura Ariyagnano,
during the October 22-23, 2011 initiation
The October 22-23, 2011 seminar included 40 persons from the
Sinhala community and 19 persons from the Tamil community
Professor W.M. Gunatilaka, (indicate by the X) who has
translated into Sinhala two of our publications receives Prasad from Satyananda (in white), October 23, 2011
Students doing Pranayama
---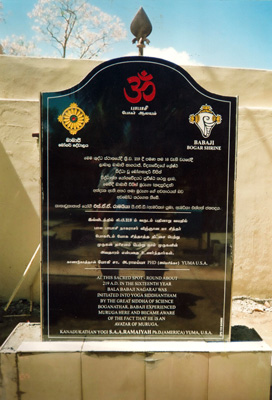 Katirgama Ashram and Babaji Koil temple
View Image Gallery of Katirgama Shrine
The holiest shrine to both Hindus and Buddhists in Sri Lanka is the Muruga temple complex at Katirgama, 40 km north of the southernmost town in Sri Lanka, Hambatota, deep in the forest, next to the Manickaganga River. Every year thousands of pilgrims come to Katirgama to seek the blessings of Lord Muruga at this powerful shrine and to enjoy the pristine natural environment. Babaji Nagaraj came here in search of his Guru, and found the Siddhar Boganathar. Under his guidance, for four years he learned dhyana and jnana and attained Nirvikalpa Samadhi, with the blessings of Muruga. He also realized that he is an avatar of Muruga.
A small shrine has been erected on the very spot where Babaji sat, under a banyan tree, with the Siddhar Boganathar to attain enlightenment. It is located just inside the gate to the Theivani Amman Kovil. Pujas are conducted there daily by the priests. Devotees are encouraged to meditate and practice Yoga in front of the small shrine, which contains granite murthis of Babaji and Siddhar Boganathar and a Muruga vel.
Devotees are welcome to visit the Babaji Ashram, which is a 10 minutes walk away from the temple, behind the CTB Government Transport Depot, and the new bridge. It is located on the east side of the Manickaganga River. It is an ideal place for meditation. Contact in advance:
E-mail: Sri Lanka Ashram